ABOUT ME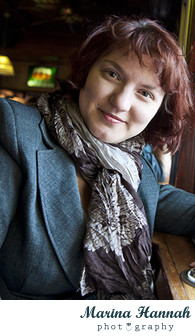 Hi, my name is Marina and I am an aspiring professional wedding photographer based around the stunning and scenic Shropshire Hills, Staffordshire and West Midlands.
Different styles and prices - I do understand how difficult it is to choose one for your wedding day! I bet you didn't realise just how expensive the wedding photography is either. Just think that these are the memories that will last for years!
All you need is somebody who has a sense of style that matches yours, experience and creativity. Somebody you can trust, somebody who will be there to answer any questions you might have - after all that's your first wedding and you want somebody who has been there before (and I don't mean someone who was married many times).
I love weddings! And I also love taking pictures of people celebrating such an occasion, weddings are the best place for me to capture stories - your love story, your family and friends, and all of you just having fun on a great day!
My adoration for remembering and capturing a special moment originates from my grandfathers collection of some incredible historic black and white photos stored in an old box, encapsulating a specific moment in time and so I could say I always had a passion for photography. But it all began for me personally about 5 years ago when I received a DSLR as a present and thought "now I will have beautiful pictures, like always!".

Soon I realized though that there is so much to learn, but I do love a challenge and my journey began.
Photographing people is what I like most of all, however challenging it is, and following a successful and happy wedding ceromony it proves to be very rewarding. And, of course, through wedding photography I get to meet so many great couples, their friends, families and relatives, view and work at some incredibly amazing venues and on such a happy occasion as well - the birth of a new family!
Wedding photographer in Shropshire
The weddings that I photograph mostly take place in the magnificent county of Shropshire. It is an absolutely beautiful area with many stunning wedding venues, all taking in the diverse and natural landscape with areas such as Telford and the Wrekin, Ironbridge Gorge and Ludlow out to the Welsh borders at Powys.
I have been fortunate to have photographed weddings in and around all these regions and always love an invite back, but there are some other locations still high up on my "I'd love to photograph a wedding there" list.
My wedding photography style

Even though I am not strictly a documentary wedding photographer, I try to capture a wedding day in a natural, organic way, favouring a more un-posed approach to photographing people. However I do direct a bit, but in a discrete way that still allows you to be yourself, be relaxed and most of all to have fun while having some beautiful memories created for you.